YANGZHOU BORUI ELECTRIC LIGHTING CO., LTD
---------------------------------------------------------------------------------------
* Lighting Manufacturer From 2006

*13 Years of Export Experience, Completed Projects Thoughout Africa, Welcome To Visit On Site!
*

Customized Light

ing

Solution Making Sure Best Quality And Price, Long Life, High Energy Saving And Environmental Protection
---------------------------------------------------------------------------------------

BORUI LIGHTING
LED Solar Street Light
LED Street Light ( Single Arm & Double Arm Street Light )
Wind & Solar Hybrid Street Light
Integrated All In One LED Solar Street Light
Solar Garden Light
Landscape Light
Combined Street Light
High Mast Pole Light
Traffic Light
Light Pole
Lawn Light
Flood Light
LED Soft Strip / Tube / Spot / Tunnel / Underground / Underwater / Wash Wall Light and Other Lights

BORUI CERTIFICATE

BORUI PRODUCT 1 --- LED SOLAR STREET LIGHT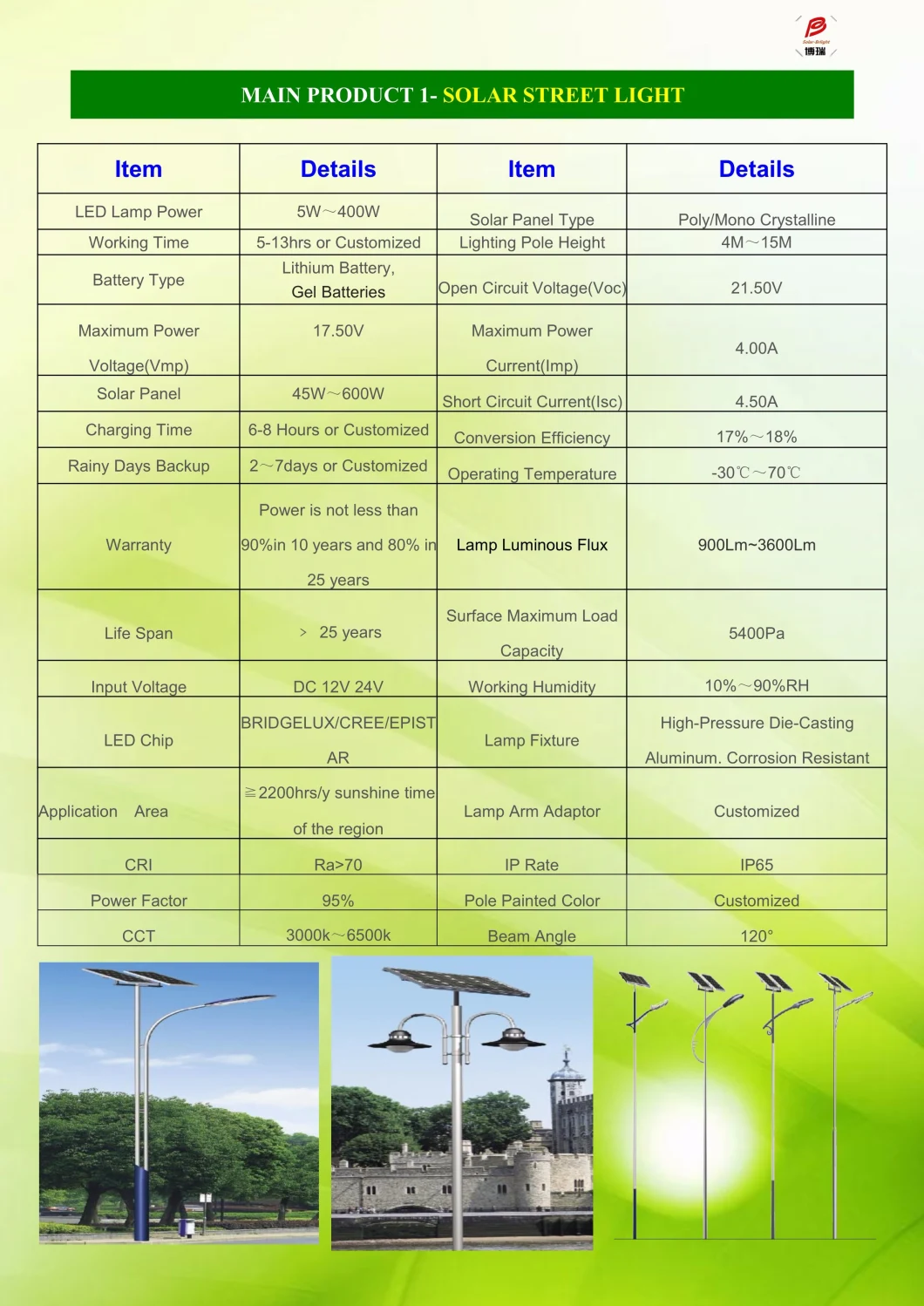 BORUI PRODUCT 2 --- WIND & SOLAR HYBRID STREET LIGHT
BORUI PRODUCT 3 --- SOLAR GARDEN LIGHT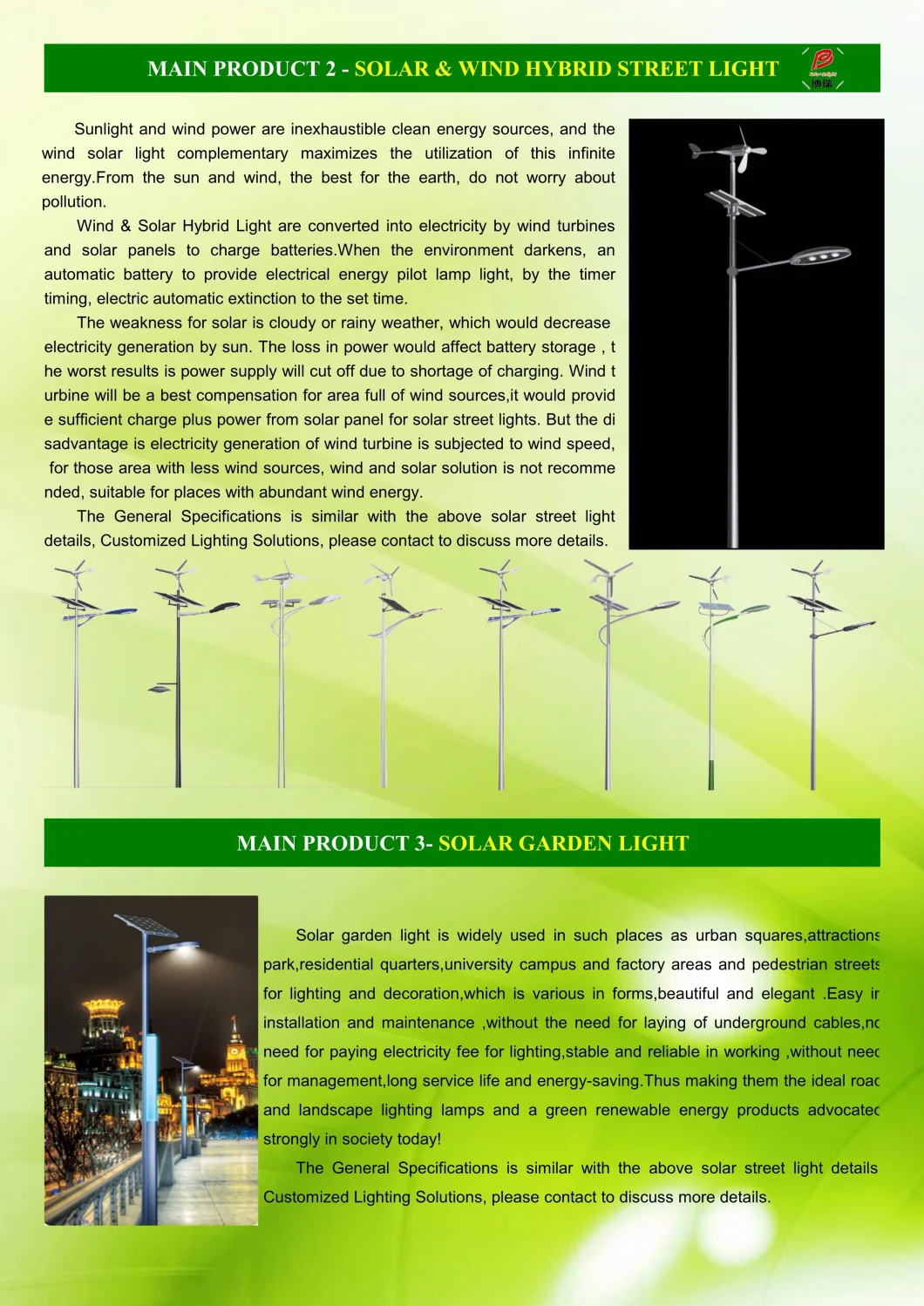 BORUI PRODUCT 4 --- INTEGRATED ALL IN ONE LED SOLAR STREET LIGHT


BORUI PRODUCT 5 --- LIGHTING POLE & TELECOME POLE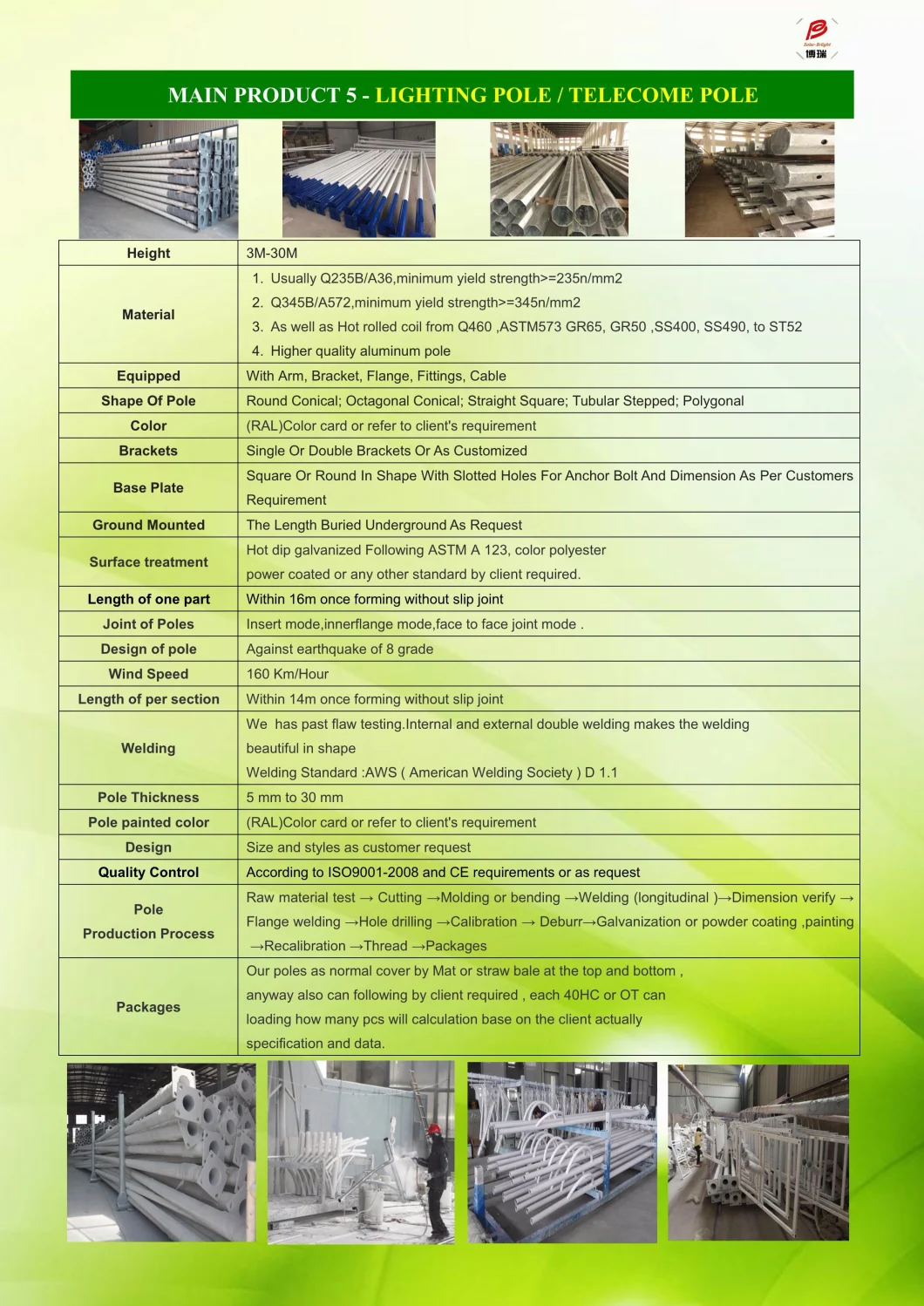 BORUI PRODUCT 6 --- HIGH MAST POLE LIGHT
BORUI PRODUCT 7 --- TRAFFIC LIGHT

Please note:
The above product specification and parameter only for reference and helping you to have a general image, the final details would be customized. We can produce various lighting products according to client provided pictures and parameters.
BORUI MAIN PRODUCT RANGE
1. Lighting Pole
2. Solar LED Street Light
3. Solar Panel
4. Lithium Battery
5. Photovoltaic Solar Panel Power System
6. Solar & Diesel Hybrid Generator Power Station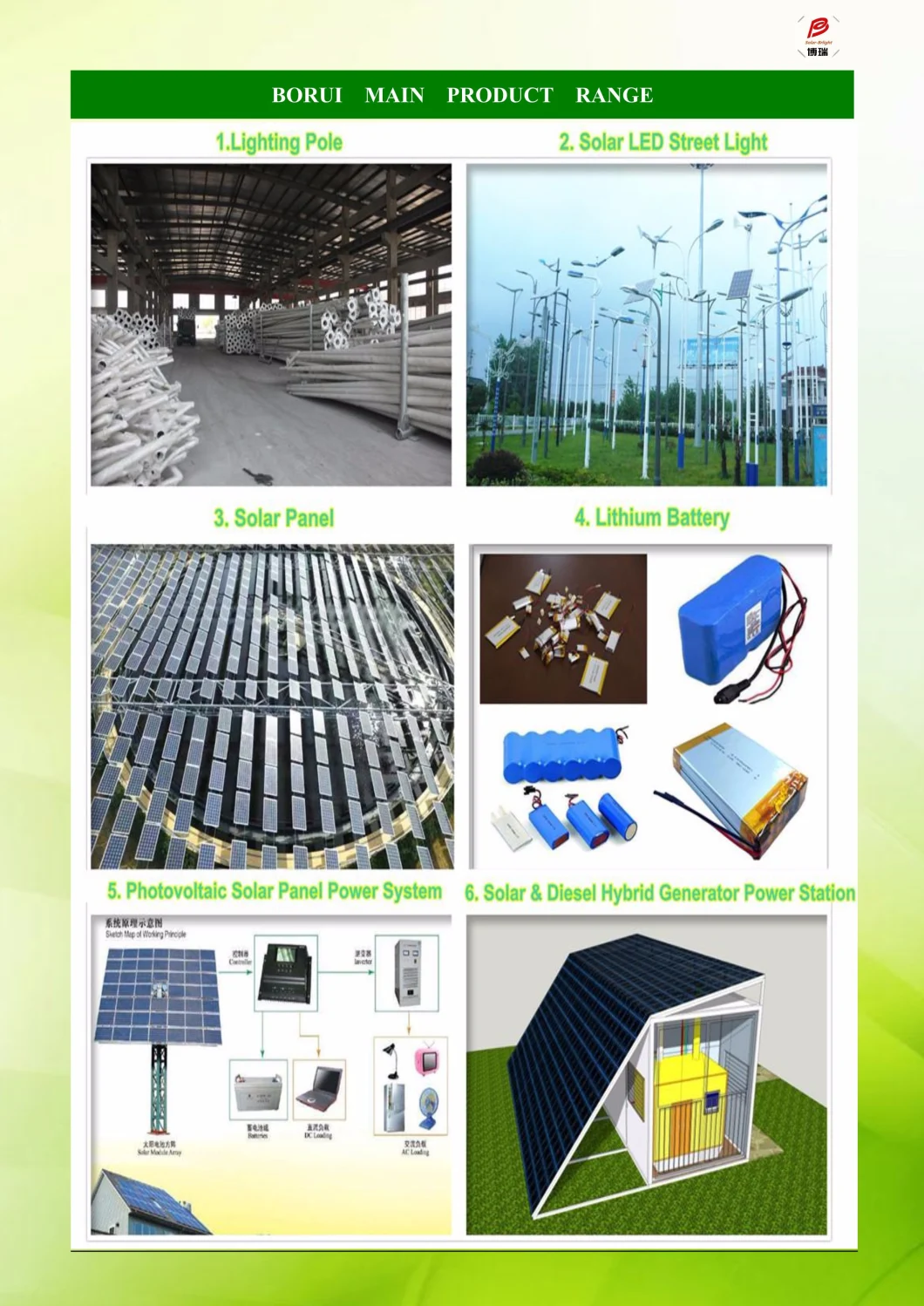 BORUI FINISHED PROJECTS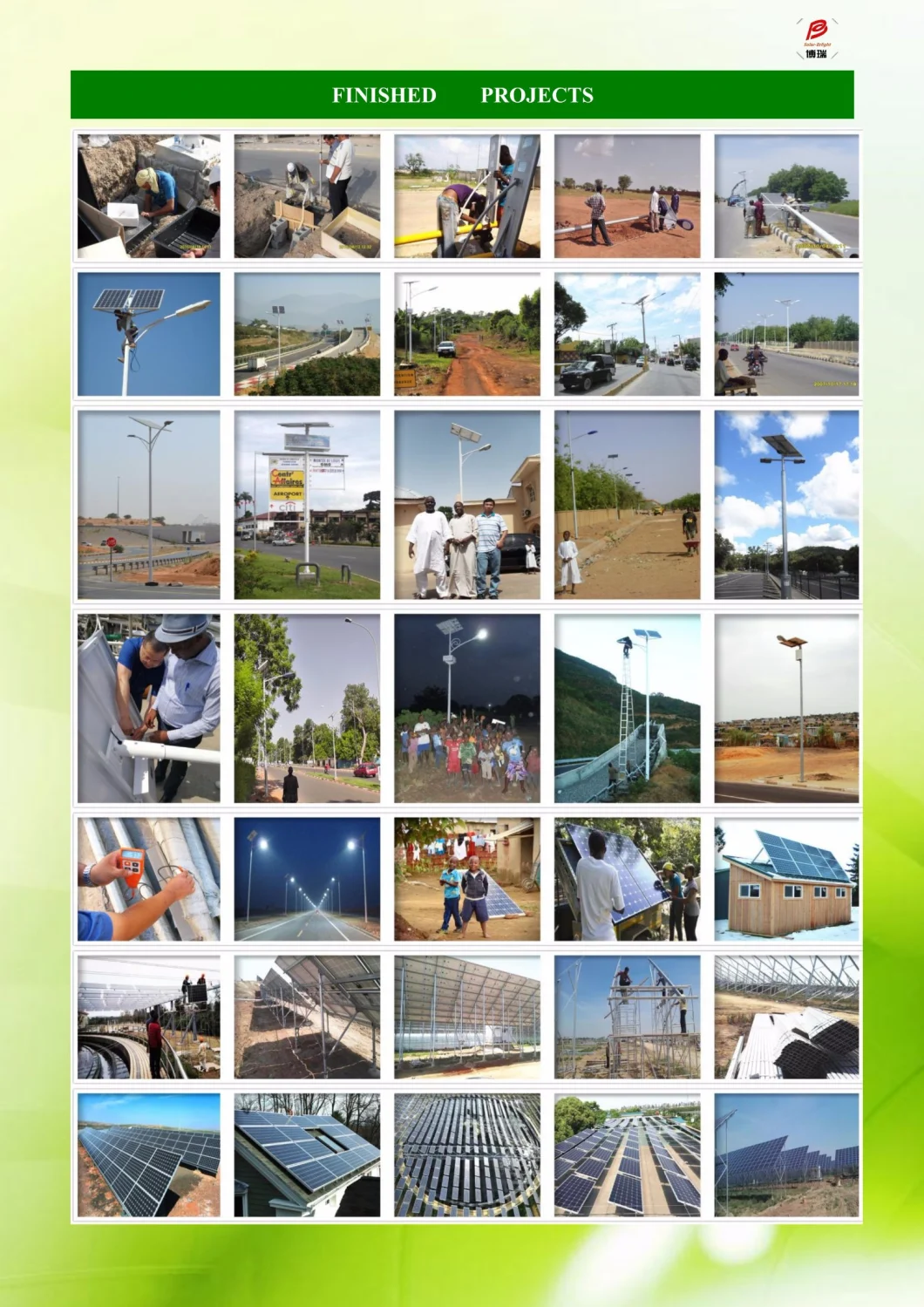 BORUI MACHINE & PRODUCTION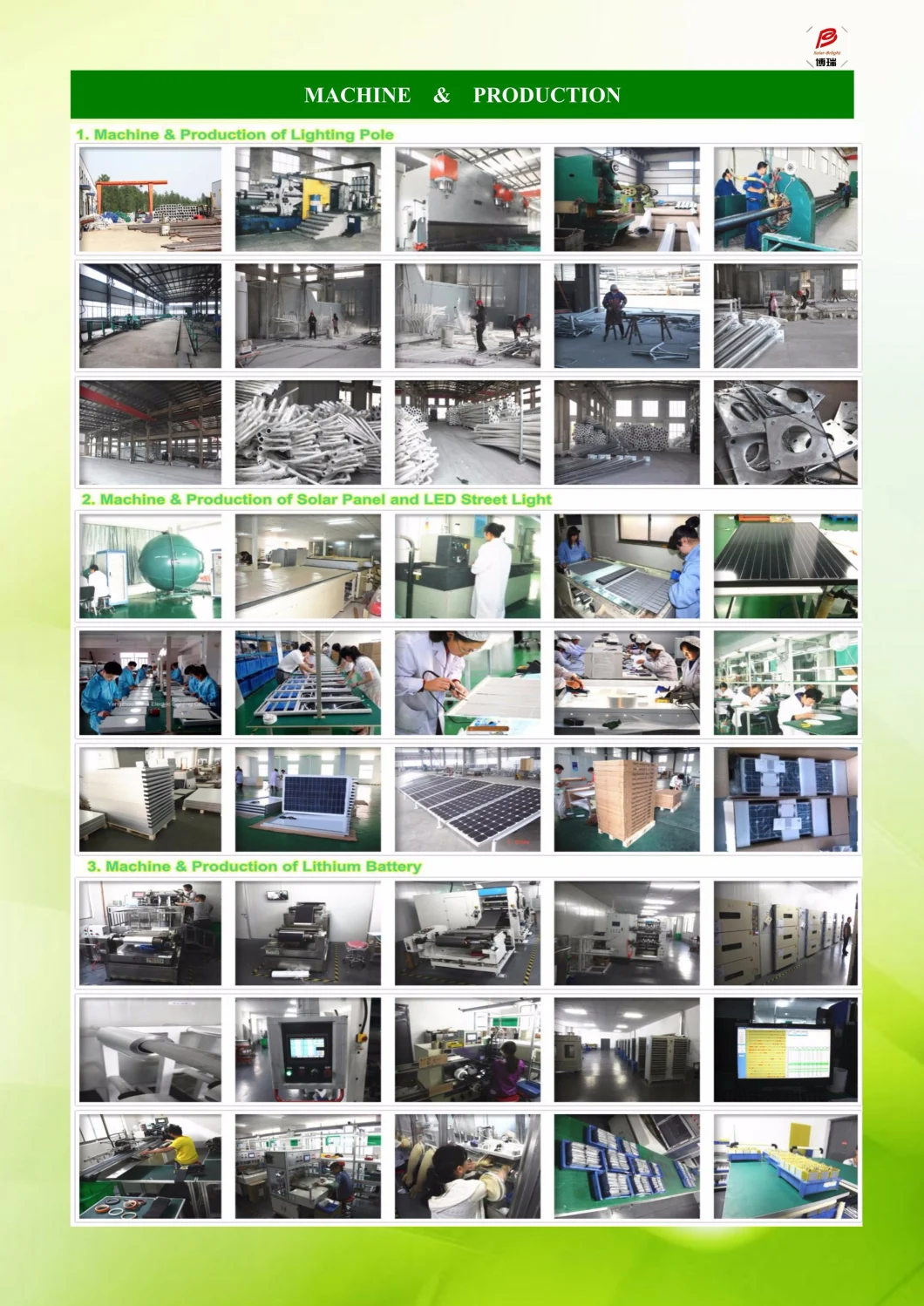 BORUI PACKING & DELIVERY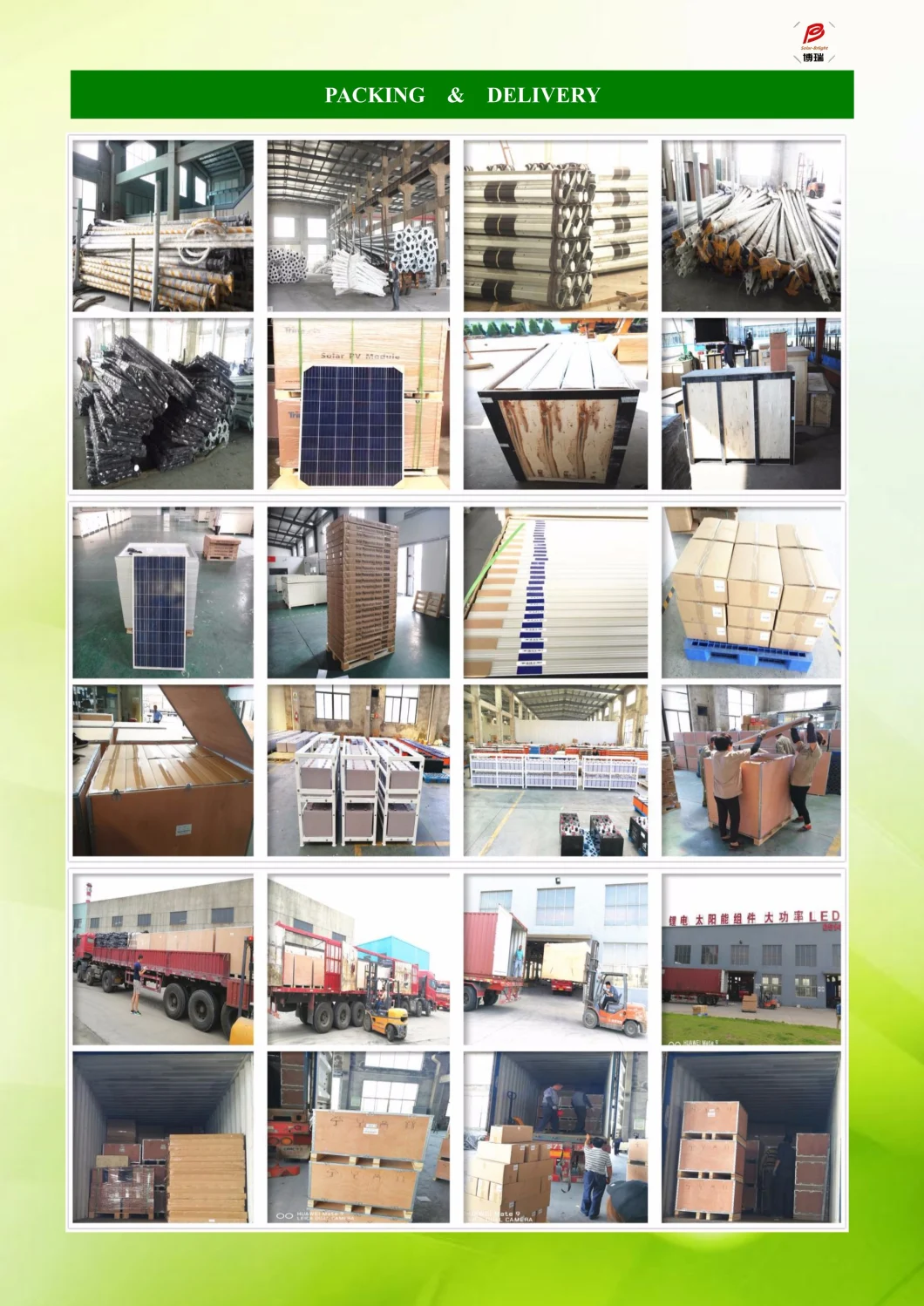 BORUI LIGHT APPLICATION
Our LED Solar Street Roard Light Lighting Lamp are widely used at Outdoor Street Lighting,Roadway Lighting, Pathway Lighting, High Speed Way Lighting, Ramp Lighting, Sidewalk Lighting, Private Road Lighting, Public Square Lighting, Plaza Lighting, Airfield Lighting, Farm & Ranch Lighting, Remote Area Lighting, Military Base Lighting, Wildlife Area Lighting, Perimeter Security Lighting, Park Lighting, Parking Lot Lighting, Gate Lighting, Yard Lighting, Fence Lighting,Campus Lighting, Boat Dock Lighting, Remote Area Lighting, Jogging and Bike Path Lighting, Government Lighting Project, etc
INFORMATION ABOUT PRODUCTION
Product Material

1. All of our material are purchased from famous mill factory to assure the quality.




2. A mill certificate issued by the mill factory with stamp and signature must be provided before unload the material in our factory ,otherwise we have our reason to refuse the material .




3.

Before put into production ,all the material must pass the chemical and physical analysis to make sure that they have meet the requested strength and component.

Design and Details

1. Pole,base plate and under ground fixture can be specially made as required.




2.The product has many types , which can meet different requirements of consumers,but the price and some technical specifications can vary greatly.




3. All the photographs are for reference only,and the actual products may vary from the photographs.




4.

Lofting and design software :We have steel pole design software which can help us design all kinds of steel pole ,at the same time ,the TMA and LMA are adopted by us to provide the design the drawing

accurately

.

Inspection

1. Management team : We have employed years of experience engineers to take charge of the overall managem

e

nt ,espec

i

ally the technical managem

e

nt ,quality management and inspeciton management.




2. Introducing ISO management ,We aware

TUV CE UL certificate .




3. QC

Inspection

:It is our company policy that all the finish product should be inspected by our

specialized

QC in every

manufacture

steps and

before

the shipment.
OUR SERVICES
BEFORE SALE
1. Actively cooperate with customers to participate in bidding;
2. Actively cooperate with customers to provide sample selection, design effect drawings, propose construction plans and answer technical questions;
3. Provide other materials as needed and assist customers to visit the company on site.
SALE SERVICE
1
. Provide detailed design drawings and construction plans;
2. Strictly control all production links, and set up multiple testing procedures from raw materials to finished products to ensure product quality;
3. Ensure that the products pass professional testing and the performance parameters are consistent with the specifications;
4. Meet the customer's requirements for engineering and product design changes;
5. Supply on time and complete the construction plan as scheduled;
6. Answer customer's questions and provide necessary technical data.
AFTER-SALES SERVICE
1. The lighting product warranty period is Solar Panel: 15 years, Battery: 3 Years, LED lamp: 3 Years, Lighting Pole: 10 Years, Controller: 2 years.
2. When any defected happened in warranty, our after sales team will response within 24hours online and give out a solving solution in time.
Warmly welcome to visit us to inspect production and discuss details!

YOU JUST NEED, WE JUST PROFESSIONAL,
PLEASE FEEL FREE TO CONTACT US AT ANY TIME, WE WOULD DO THE BEST LIGHTING SOLUTION FOR YOUR REFERENCE!